Microsoft warns PCs running Windows 11 that do not meet the configuration requirements will have to return to Windows 10 if they want to join Windows Insider
When Microsoft announced Windows 11, it made some drastic changes to the rigorous system requirements. However, when testing in the Windows Insider program, Microsoft still allows users to install Windows 11 even though the system does not meet the requirements.
If you are using Windows 11 in the Windows Insider program, you will only be allowed to use it until the final version is released. Once it expires, you must roll back to Windows 10 or you will be in an unsupported state, meaning no updates will be received. Microsoft has started issuing warnings for users to return. Upon acceptance to leave the Windows 11 beta, Windows Insider users will be re-entered into the Release Preview for Windows 10 21H2.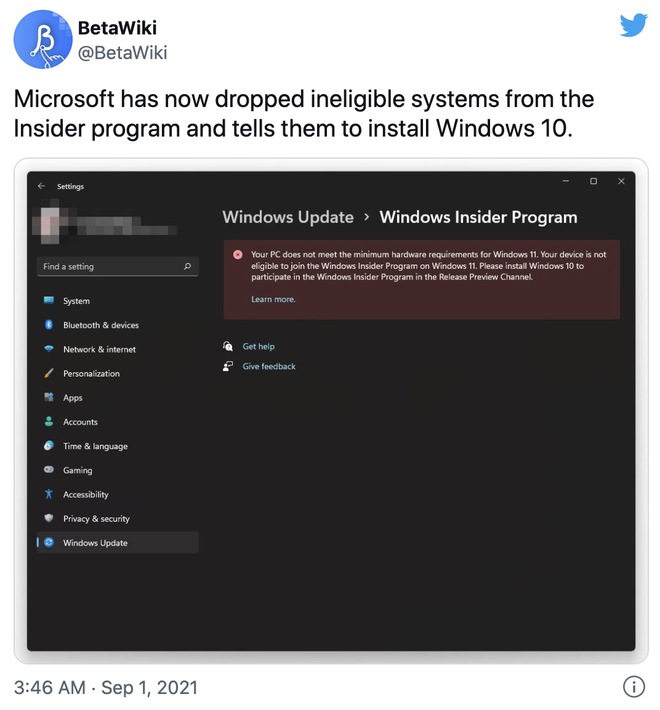 "Your PC does not meet the minimum hardware requirements for Windows 11. Your device is not eligible for the Windows Insider program on Windows 11. Please install Windows 10 to join the Windows Insider program in Release Review channel."
- As announced by Microsoft.
According to Microsoft, data from Windows Insider shows that Windows 11 is currently experiencing the following issues on non-eligible machines:
Unsupported devices get 52% more Blue Screen errors. On the other hand, 99.8% of compatible devices have no problems when experiencing.
On unsupported devices, the chance of app crashes is 17% higher. For first-party apps, Microsoft observed 43% more crashes.
Rating: